US Health System Ranks Last Compared to Other Countries
Doctors Are The Third Leading Cause of Death in the US, Causing 225,000 Deaths Every Year
State Medicaid Programs Throughout the Nation Are Extremely Deficient
---
American Academy of Environmental Medicine
Index of Papers by Lew Brenneman, MD, PhD
Resource list of doctors and scientists involved with toxic exposure
How to find doctors' credentials
Townsend Letter for Doctors & Patients
---




Naturopathy



Academy of Natural Healing

St. Tammany Parish - Dr. Karni Dehler 985 867-9933

How do you find a good physician


---
Chemical Injury.net: Grace Ziem
Center for Occupational and Environmental Medicine: Dr. Allan Lieberman
Neuro-Test: Kaye Kilburn
Toxgun: Gunnar Heuser
Neurotoxic Chemicals: Raymond Singer
Dr. Jack Thrasher's Website
Dr. Doris Rapp
Dr. Mark Donohoe
Rocky Mountain Environmental Health Association
Environmental Health Center - Dallas
---
Accuracy of Diagnostic Laboratory Medical Tests
---
National Institute of Environmental Health Sciences
Physicians for Social Responsibility
---
Natural Antibiotics & Antiseptics
---
DoctorYourself.com
Orthomolecular.org
Bill Sardi's Knowledge of Health
---
Parasites: Unwanted Guests
Parasite Primer
---
---


One of the most difficult tasks will be finding a doctor that can help you. Most physicians receive very little, if any at all, training in how to recognize and treat pesticide poisoning or any of the related health effects in the early stages of the illness.

When choosing any doctor or medical clinic, we urge caution. If you find yourself in a controversial situation and believe you have been poisoned by pesticides or have a chemical injury or illness, find another doctor. Your prognosis usually depends upon receiving appropriate treatment right away.



How to find a Doctor




First, the Doctor you choose Must treat you as a patient and not as a controversial subject.


Second, If your Doctor does not have training and experience in diagnosing Chemically induced injuries he should be willing and happy to refer you to a specialist familiar with Chemical Injuries caused by Low Level Chemical Exposures . If not, find another Doctor.


Third, The Specialist should have actual experience with a good number of chemically injured patients. He should have long term experience in the treatment of your illness.


The Doctor you find may be a Medical Doctor or a Doctor of Osteopathy.


Your Doctor may be a specialists in Immunotoxicology, Toxicology, Occupational Medicine, Neurotoxicology, a Cardio-vascular Surgeon, Neuropsychiatry, or Clinical Ecology (Environmental Medicine).



Click here for full article.




We recommend ordering several copies of EPA's handbook. Order one for yourself, your physician and local hospital. Give one to a friend or family member and donate one to your local library. Copies are "free". US EPA Recognition and Management of Pesticide Poisonings 5th Edition (1999)




Dr. Sarah Myhill An excellent resource for helping you diagnose illness online.


Modern Health Care System is the Leading Cause of Death
Questionable Doctors - Disciplined by State & Federal Governments
Medical Privacy Coalition - The End of Medical Privacy
Drug Companies Engage in Illegal Sales Practices: U.S. Issues Warning


Tired or Toxic? Many doctors who work with chronically fatigued patients and those who work in the field of environmental medicine, agree that chemical exposure is a major contributor to fatigue and low vitality.


Chemical Sensitivity: It's a Serious Problem More Often Than You Think!!!
Low-Level Chemical Exposures: A Challenge for Science and Policy


We lose our health, our jobs, and our pleasures in life. We lose our homes, our families, and our friends. Then we find ourselves desperately fighting the system for our rights and benefits to meet our basic needs. We feel abandoned and abused.

Major losses can rule our lives for years with feelings of helplessness, confusion and overwhelming sadness. Often times our emotions can effect our self-esteem and wellness.



Ten Keys to Coping and Recovery

Emotional Wellness Matters Newsletter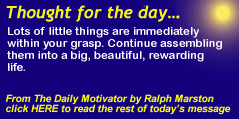 ~click graphic~
Declaring an Emergency: Under this Act, any Governor could appoint himself dictator by declaring a "public health emergency." He doesn't even have to consult anyone.